Fire in the Sky UTV Fun Run
Buckle up, adventurers, because there's an experience waiting for you that's out of this world – quite literally. Ever heard the tale of the logger's Alien Abduction in the '70s? Well, that's just the beginning of the mind-bending adventure that awaits you in the charming town of Heber. Picture yourself in the heart of the Ponderosa Pines, surrounded by the Apache-Sitgreaves National Forest, where whispers of the unknown and the allure of the wilderness intertwine.
Now, let's dive into the mysteries of Heber. In the days of bell-bottoms and disco, a logger's tale of an Alien Abduction rocked the small town. The logger's story still lingers in the air, as if it's a secret waiting to be uncovered. His friends found him in a telephone booth – an eerie encounter that's left folks wondering whether he was returned or managed to escape. And you can relive this tale by visiting the very telephone booths where this otherworldly story unfolded. While you're there, pose for pictures with two larger-than-life alien wooden statues that stand guard by the telephone booths. This isn't just a story; it's a real-life encounter with the unknown. The logger, Travis Walton, shared his experience in the book "Fire in the Sky," which later became a movie that captured the imagination of many.
But Heber is more than just a backdrop for mysterious tales. This gem of a community is nestled amidst the cool Ponderosa Pines of the Mogollon Rim, a mere two and a half hours away from the Phoenix hustle. And don't let its size fool you – there's an abundance of activities waiting for you. Fishing, hunting, biking, hiking, camping, and of course, the exhilarating thrill of UTV off-roading. With off-road trails branching in every direction, wildlife encounters and awe-inspiring vistas are just around the bend.
Presenting the event that's set to redefine your idea of adventure – the Fire in the Sky in Heber, an extravaganza by UTV Offroad Adventures. Brace yourself for a three-day escapade that's a perfect blend of thrills, camaraderie, and memories that'll last a lifetime. Imagine kickstarting your adventure with a Friday night ride that covers approximately 15+ miles of scenic terrain. And the excitement doesn't stop there. On both Saturday and Sunday, choose between two separate rides that range from 50 to a heart-pounding 90 miles. And that's just the beginning – delicious meals, camping under the stars, quick draw poker, raffles that'll have you on the edge of your seat, and endless laughter are all part of the package.
No matter your age or UTV experience level, this adventure is tailor-made for everyone. From newcomers to seasoned pros, this is your chance to join the adventure and meet new friends while making memories that'll last forever.
So, what are you waiting for? Your journey to Heber and beyond is just a tap away on your mobile device. Hit that menu option at the top to uncover all the thrilling event details, the prime location, the heart-pounding itinerary, and how to secure your spot. Get ready to step into the unknown, unleash your inner adventurer, and explore the wilderness like never before. The Fire in the Sky in Heber awaits!
News: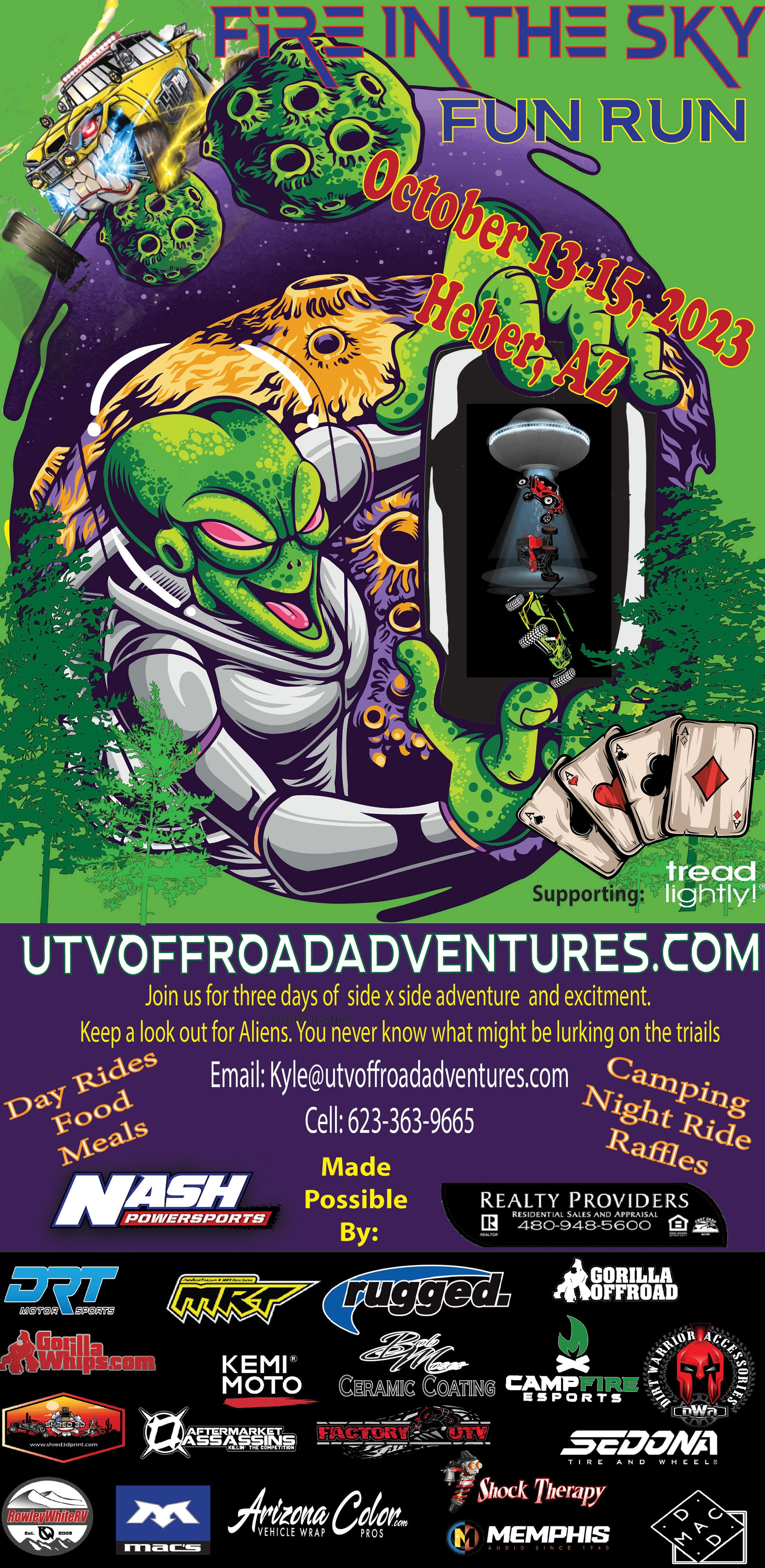 GET YOUR SITE NOW at AJ's Getaway RV Park! This is the Host Campground for this years Fire in the Sky Fun Run. There are only 43 full hook-up sites available for this private event! Sites are $65.00 a night plus tax for up to 4 nights from Oct. 12th- Oct 16th. Rides are scheduled on Oct 13th, 14th and 15th only. There are also Buddy-Sites, so you can camp with your friends! Reserve your spot for the ride first @ UTVOFFROADADVENTURES.COM, then call Machelle @ 928-433-8060 for these limited sites. See you in October!
The event is taking place at AJ's Getaway Family Campground with full hookups available. Must call 928-433-8060 to reserve. There is also free dispersed dry camping throughout the forest.
2023 Schedule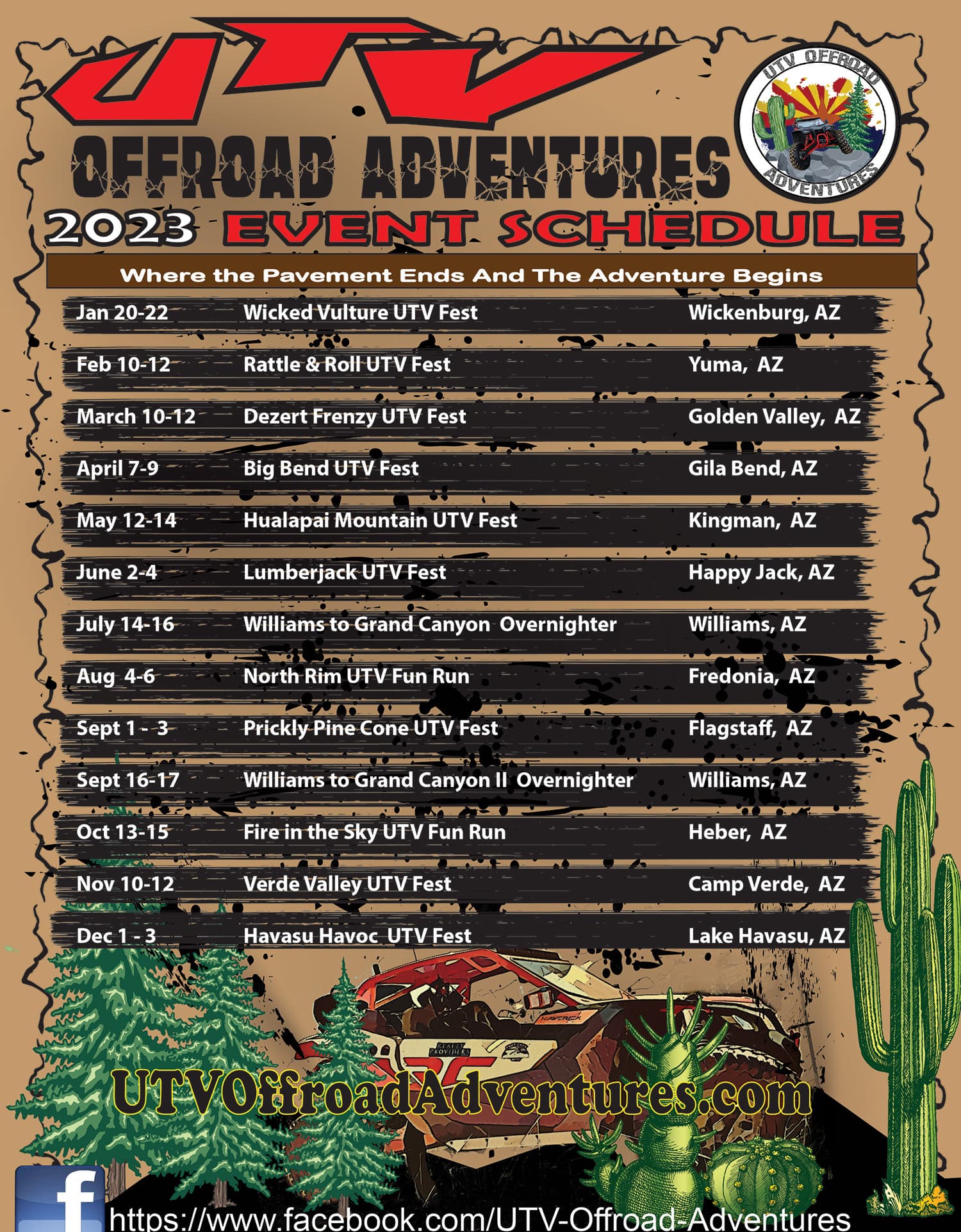 2024 Schedule